Minimalist Sandals are mankind's oldest footwear, with examples found that are thousands of years old.
They're also the simplest — something to protect your soles, plus some way to hold that protection onto your foot.
That's why people have enjoyed the comfort and freedom of sandals for activities including:
Walking
Running
Hiking
Working out
Yoga
Travel
Then there's the unique value that minimalist sandals offer — letting your feet do what's NATURAL
Your feet are made to bend, flex, move, and FEEL the world (your brain needs feedback so you can balance and move move effectively and efficiently).
NOTE: don't confuse huaraches style sandals with flip flops. I'll explain why in the FAQ section further down the page..
Here are our best-sellers for men, women, and kids that will help you Live Life Feet First:
When it comes to the comfort and benefits of running, walking, and, well, LIVING in sandals, we don't fool around. That said, we're never above making fun of ourselves, so here's some barefoot humor for you.
A quick question for you...
Think about your feet for a moment.
Do they feel better at the end of the day than they did at the beginning?
No?
If not, that's because your shoes aren't letting your feet do what's NATURAL — bend, flex, move, and FEEL the world.
True comfort — and performance — come from letting your feet do what's natural.
At Xero Shoes, we make products that let you do what's natural, so you can Live Life Feet First!
Are these "authentic" huaraches?
"Huaraches" is a Spanish word for sandal, and most people think of the Mexican woven leather sandals when they think of huaraches.
The word became synonymous with "running sandals" after Christopher McDougall's New York Times best-selling book, Born To Run, became popular in 2009-2010.
The Tarahumara tribe (also known as the Raramuri, or "Running People") is known for running hundreds of miles in sandals made from scraps of tire, held on with a leather strap.
The Westerners who saw these simple-but-effective shoes asked what they were called, and were told "huaraches."
So, not surprisingly, in some circles, a huarache is a running sandal, and in others it's a woven leather sandal.
You can join our worldwide "MOVEMENT Movement"
The Xero Shoes mission is making natural movement the better, obvious, healthy choice… the way natural food is now. 
That's why we say we're creating a MOVEMENT movement.
We'd love to have you join the movement.
All you have to do is sli on a pair of Xero Shoes  so you can Live Life Feet First.
Have you forgotten the feeling of going outside on a warm summer day, kicking off your shoes and feeling the grass, or the sand, or the water between your toes.
Remember that fun. free feeling?
You can have that feeling NOW, regardless of your age.
If you don't want to go barefoot, put on some shoes that let you Feel the Freedom and Feel the Fun of minimalist shoes, boots, and sandals.
Xero Shoes.
Still Have Questions About Huarache Sandals?
If the FAQs below don't answer your questions, contact our Customer Happiness Team at [email protected].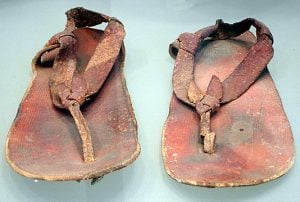 If you look at the earliest huaraches, and if you look at sandals made in other indigenous cultures in Australia and in Africa, you'll find that they are made with leather.
Sometimes they are all leather, with a leather base and leather upper. Some have a woven leather upper for a traditional Mexican huarache or a leather foot bed and leather straps or laces for the sandals worn by the Tarahumara.
Women have a lot of huarache sandal style options with Xero Shoes.
All of our shoes are like ballet flats. We don't have any wedge style sandals because we believe that natural is better, and having your heel elevated can offset your posture in ways that cause problems for your back. We want women to enjoy the fun and benefits of natural barefoot living.
Here are some ways you can do that.
The first is with one of our do-it-yourself kits.
You get a sole in the color and size that you want, and then there are two different thicknesses – one is really, really thin, 4 millimeters, just great barefoot feel but just enough protection; the other is 6 millimeters thick and is even better if you're going to go on trails or things that are a little more aggressive.
You get to choose from 22 different colors of our polyester laces, you can mix and match those and get really great color combinations. The last thing you get is a hole punch because you're going to be punching a hole where the lace goes through for your unique foot shape, like right in front of your toes between your first and second toe, right in front of the webbing.

And then there are dozens of different ways that you can lace these. You can also get a little decorative from something really simple, just add a charm to your shoe, which is a nice elegant touch. You can also get really blingy if you like.
We had one customer paint her toenails and then she added beads that matched her toenails. So there are lots of fun, decorative options.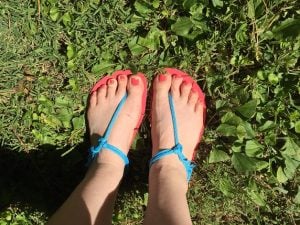 If you don't want to make your own sandals, that's totally understandable.
We have two different styles after that that you can go for. First, our thong-style sandal, this is our Genesis sandal, comes in three different colors and it's really easy to slide your foot in, tighten it up around the forefoot, and then grab these little lace ends and give them a tug and they'll fit perfectly on your heel.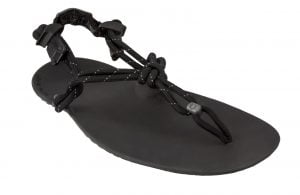 They just slide on and off. Then, you can wear these for anything you want from going to yoga or a Zumba class or taking a walk or taking a hike or taking a run.
Pictured below are Mel and John Sinclair, who are finishing a 50 mile race in their Venture sandals, the precursor to the current Genesis.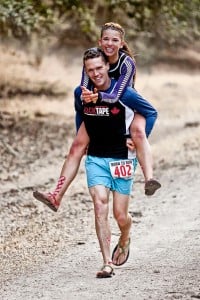 If you want something a little more comfortable and a little flashier too, you can get our Cloud sandal. We laid 3 mil of BareFoam™ in the forefoot so it's even lighter, more flexible, a little more comfortable, and it floats. You can also add charms or beads to both the Cloud and Genesis to get a little decorative effect there as well.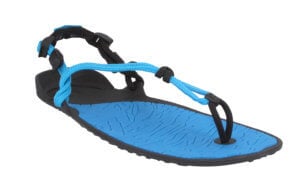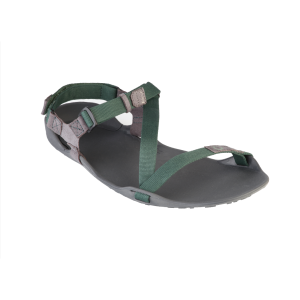 Then we have our sport sandals, the Z-Trek sandal, which is the same base actually as the Genesis, just with 1mm more of our FeelTrue® rubber but with the sport-sandal-style webbing. So this feels great. It's a real barefoot feel; really, really flexible. It's like someone's replaced the sole of your foot with a tire tread, so really great for hiking and camping. Great camp shoe.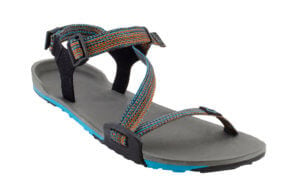 If you need a little more protection, you'll want to get our new Z-Trail sandal. This is our bestseller. It is the perfect combination of lightweight flexibility so your foot can move naturally, durability, versatility.
People do everything from taking a walk to running ultra marathons to going to yoga to doing CrossFit to you name it. Really, really comfortable; really lightweight. In fact, this weighs less than the Z-Trek because of the foam – we have our FeelTrue® rubber for abrasion, then TrailFoam™ to get rid of all the bumps, and BareFoam™ for that little bit of comfort. A wonderful sandal and our bestselling sandal.
Those are the options that you have. We look forward to seeing what you do, how you feel the freedom, feel the fun
and feel the world.
Huarache is a Spanish word.
The pronunciation is "wah-RAH-chay".
Nike makes a product they call the Nike Air Huarache and I have to be honest, I don't really know why because it has nothing to do with the Mexican huaraches, which are sandals that have the woven leather upper.
And it certainly has nothing to do with the Tarahumara huarache running sandals.
So I don't really know why they use that name, but if there's any confusion, now you understand what the situation is. Hope that's helpful.
| | |
| --- | --- |
| Traditional Huarache | Nike's "Air Huarache" |
A huarache sandal, technically, is a Mexican sandal with a woven leather strap upper.
That has changed a little bit because of the popularity of this book, Born to Run, about the Tarahumara Indians of Mexico who wear sandals for running. Their huaraches are a thong-style sandal made with a tire tread for the bottom and a leather upper on the foot bed and leather lace.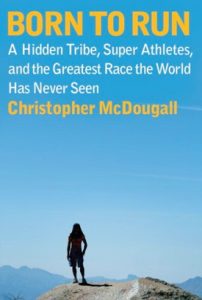 When Americans went down to the Copper Canyon in Mexico down and met the Tarahumara and they heard about these huaraches, they thought a huarache was the running sandal worn by the Tarahumara.
Once Born to Run got popular, that's how many Americans began to think of a huarache as a running sandal, whether it's a big thick one that looks like what's to the left below or something from Xero Shoes that's a modern version of the Tarahumara huarache that's below to the right.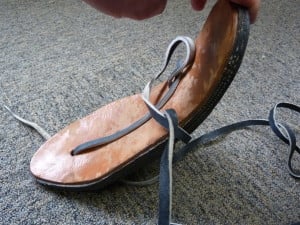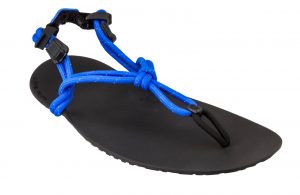 Humans have been wearing huarache sandals since practically, well, there have been humans.
They're the simplest form of footwear — something to protect your foot, and some way to hold that protection onto your foot.
So, not surprisingly, people have been doing almost anything in their huaraches:
Running (pretty much every distance, from 5K runs to 256K ultra marathons)
Walking (we've had people stroll on the beach, in cities, and everywhere in between)
Hiking (I know hikers who've done the PCT, the AT, and the Camino in huaraches)
Daily wear ('cause, why not?)
Since we started selling our ready-to-wear huarache-style sandals, we've heard from people doing much more:
Yoga (it's like having a yoga mat under your feet whenever you want one)
Working out and CrossFit (perfect for deadlifting and squatting)
Spas and locker rooms (a great post-hot tub or shower shoe)
Recovery (let your feet enjoy active recovery after they've been overused)
Travel (so lightweight and thin, they take up no room in your bag)
Rafting and Kayaking (great for portaging or for letting your feet relax at the end of a day)
Skydiving! (seriously, we have photos to prove it)
I don't recommend huaraches for activities with a lot of lateral movement, like tennis, because the basic design isn't perfect for that.
But, otherwise, there's a LOT you can do. And I'm sure you'll do things we can add to this list.