Minimalist Sandals are mankind's oldest footwear, with examples found that are about 10,000 years old.
They're also the simplest — something to protect your soles, plus some way to hold that protection onto your foot.
That's why people have enjoyed the comfort and freedom of sandals for activities including:
Walking
Running
Hiking
Working out
Yoga
Travel
Then there's the unique value that minimalist sandals offer — letting your feet do what's NATURAL
Your feet are meant to bend, flex, move, and FEEL the world (to give your brain the feedback needed so you can move effectively and efficiently).
To deliver the benefits of natural movement, a truly minimalist sandal has these qualities:
Light weight (Xero Shoes sandals often weigh less than 1/3 what traditional sandals weigh… making them perfect for travel)
Flexibility
Thin and low to the ground for balance and agility (while still providing the protection you want)
No heel lift, for proper posture
Minimalist sandals are NOT flip flops (read more about that in the FAQ section, below).
 Here are some best-sellers for men, women, and kids that will help you Live Life Feet First:
We're not fooling around when it comes to the comfort and benefits of minimalist footwear. But that doesn't mean we don't enjoy fooling around (including making fun of ourselves). Enjoy some funny bare feet humor, below.
Let me ask you a question...
Do your feet feel better at the end of the day than they did at the beginning, before you put on your shoes?
If not, it's because your shoes aren't letting your feet do what's NATURAL — bend, flex, move, and FEEL the world.
True comfort — and performance — come from letting your feet do what's natural.
No man-made material has ever improved over what nature has given you.
At Xero Shoes, we make products that let you do what's natural, so you can Live Life Feet First!
What if I have flat feet? Or pronate?
Do you think weak feet and ankles are better than strong feet and ankles?
I'm assuming you don't.
Here's something you already know:
When you immobilize a joint (think: putting your arm in a cast), the muscles atrophy and it gets weaker.
When you USE a joint it can get and remain strong.
With flexible soles that let you USE your feet naturally, you may discover that flat feet or high arches or pronation or supination are simply not an issue.
Want to be part of a worldwide a "MOVEMENT Movement"?
Xero Shoes has a mission: Making natural movement the better, obvious, healthy choice… the way natural food is now. 
That's why we say we're creating a MOVEMENT movement.
And you can be part of it.
It's simple. Just start using your feet the way you did as a kid!
Remember running outside on a warm summer day, kicking off your shoes and feeling the grass, or the sand, or the water between your toes.
Remember that fun. free feeling?
You can have that feeling NOW, regardless of your age.
If you don't want to go barefoot, put on some shoes that let you Feel the Freedom and Feel the Fun of minimalist shoes, boots, and sandals.
Xero Shoes.
Men's Minimalist Shoes Best Sellers

 
Women's Barefoot Shoes Best Sellers

 
More info about Minimalist Footwear
Still Have Questions About Minimalist Sandals?
If you have questions what you can do in minimalist running shoes or sandals, check the Frequently Asked Questions, FAQs, below. If you still want additional help, reach out to our Customer Happiness Team. You can email them at [email protected].
In fact, yes.
We have our best-selling sport sandal, the Z-Trail, available for kids.
For toddlers — and we have hundreds and hundreds of parents who have done this with their kids — a great choice is our do-it-yourself kit.
It's a great family project to make your own sandals.
One recommendation if you're going to make a pair of minimalist sandals for a toddler:
Toddlers put a lot of pressure on the lace of the sandal, at the spot that goes through the sole, and on the knot underneath the sole. So, you're going to want to get some flexible epoxy or some Shoe Goo, which we sell on our website, and you're want to coat the knot area and the first like half-inch of the lace above the lace.
That'll just give it a little more strength and durability. We also recommend using the "Lace Bead" shown in many of our tying styles.
The simple answer: Yes.
Surprisingly so, in fact. But probably not for the reason you think.
First of all, comfort can be a little misleading.
Think about this: a Tempur-Pedic bed feels really comfortable when you lie on it. But try jumping on it… not so good for jumping. Even standing will quickly get you tired, as your body tries to adjust for the shifting foam.
Padding in shoes can feel great when you step on it, but that doesn't mean it's really good for you.
What's really good for you, and what's genuinely comfortable, is using your feet naturally.
Your feet are designed to bend, to flex and feel the world. You have more nerve endings in the soles of your feet than anywhere but your fingertips and your lips. A quarter of the bones and joints in your body are in your feet.
This is not an accident.
You're supposed to use them – bend and flex and feel.
You don't need a high-heeled sole because that's not the way your body is designed. That can put your pelvis all out of whack and mess with your posture.
So what makes Xero Shoes sandals comfortable is mostly how they get out of the way and let your feet move naturally, let your body move naturally, and give you just the right amount of protection for whatever you want to be doing.
Our 4-millimeter, do-it-yourself, Connect sandal sole with our FeelTrue® rubber that just gives you some protection if you're running on roads, for example, just enough so that you don't have to worry about the sole of your foot so much. You're going to feel things. It just gives you a little protection from stuff that could be pointy or pokey. And it keeps your feet clean 😉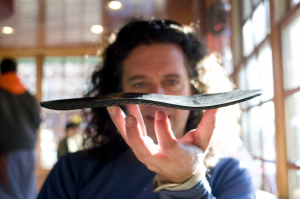 And then we go to our 6-millimeter sole — we call that Contact — and that's the same idea but just, again, 50% thicker. So it's a little more trail-friendly.
Our Genesis sandal, below, as an example — the Genesis is actually just a ready-to-wear version of our sandal making kit.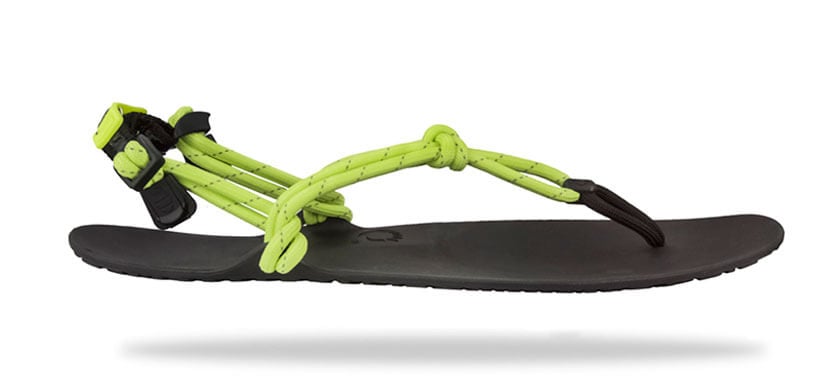 If you want a little extra comfort though, you can use our Cloud, which actually is the same sole as the Genesis except then we added just a little bit of BareFoam™ in the forefoot so it just gives you some extra comfort. Plus it reduces the weight.
People put this on and it's so light they go, "Wow, it's like I'm not even wearing anything," but it's just so comfortable because of that tiny little bit of foam. It's not like a Tempur-Pedic. It's not like cushy. It's just a little bit so your foot goes, "Aah."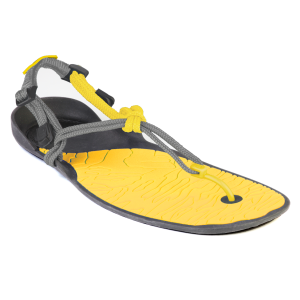 Try a pair of Xero Shoes sandals and Live Life Feet First!

We have minimalist sandals for both men and women.
Some of our products are unisex, like our Cloud and Genesis. The shape is designed to fit as many different feet as possible, but we've designed for both men and women. So the men's size 39 for example, is the same as the women's size 38.
We also have sandals that are more specifically for men or women, like our Z-Trek as an example and Z-Trail.
The difference between the men's and women's is mostly width. So if you're a man with a narrow foot, you can use the women's product; if you're a woman with a wide foot, you can use the men's product.
Also, sometimes we'll use colors only available in the men's products… and colors unique to the women's products.
On the Z-Trail and Z-Trek you'll see another difference between men's and women's. On the men's styles, the webbing is slightly wider than the webbing for the women's version product, 20mm wide for men and 16mm wide for women.
| | |
| --- | --- |
| Men's Z-Trail sandal | Women's Z-Trail sandal |
Of course, our do-it-yourself kit lets you do whatever you like regardless of whether you're a man or woman, with narrow or wide feet. You select the sole that's the size that's right for the length and the width of your foot, and then you trim the entire sole to perfectly match your unique foot shape regardless of your gender.
Here are some comparisons between Xero Shoes and other sandal brands.
Chaco
Chacos are a popular brand of sport sandals… far from minimalist, though, they're actually quite heavy, thick, and stiff.
In fact 3 pairs of our Z-Trail sport sandal weigh less than one pair of a popular Chaco sandal.
Teva
Similar in many ways to Chaco, Teva sandals are also not a minimal option.
Luna
Luna Sandals were also inspired by the tire sandals worn by the Tarahumara Indians in Mexico. They have some minimalist options and some that are much thicker and stiffer. As of this writing (early 2020), Luna only offer huarache-style sandals (with the toe thong).
Keen
Keen is most well known for their toe-protective sandal with a partial foot covering.
Like Teva and Chaco, most styles are heavier and stiffer than Xero Shoes' Colorado
How does this compare?
Xero Shoes' sandals are made to let your feet bend, flex, move, and safely feel the ground… the way your feet are made to function.
Comparatively, you'll find that Xero Shoes are lighter (perfect for travel), thinner, more flexible, more affordable, don't require any "breaking in", have an easier tying system, and are backed by our 5,000 mile warranty.
People ask if we use leather — in the laces or the soles — for our minimalist sandals.
The answer is No.
We don't for a couple of reasons.
We like that we're making a vegan sandal product—we don't want to exclude people from being able to wear and enjoy Xero Shoes—but there's also another issue with leather. Well, a couple.
One is it's really expensive. The other is that if you have a leather sole, well, when leather gets wet gets really floppy and expands, and then when it dries it gets hard and it contracts. Because it's a natural material, it doesn't last as long as synthetic materials.
And with the lace or the strap, the leather has edges that can dig into your skin.
One reason people like leather is after you wear it for a while it develops a patina over time. That patina is actually dirt and sweat and bacteria, which is why leather can absorb smell in a way that just using our rubber or our TrailFoam™ and BareFoam™ don't. So that's why we're currently not using leather.
We've heard from people who've done almost everything:
Walking
Hiking — you'll see people on the AT, the PCT, the Camino
Running (yes, even running 100+ mile trail ultra marathons)
Yoga — minimalist sandals are like having a yoga mat right under your feet at all times
Paddleboarding — sometimes on the board, sometimes when carrying the board around
Travel — they're so lightweight and thin they take up no room in your bag… and you may not need other footwear at all!
Working out — deadlifting and squatting are best in bare feet or with the protection from a minimalist sandal
And a LOT more…
By the way, if you start wearing minimalist sandals, be prepared for some people to think you're crazy.
While we've had thousands of people tackle hikes, trails, and climbs that most people think require hiking boots — and, again, our ancestors did the same in less-sturdy sandals than Xero Shoes — some people might, well, say some insulting things to you as you happily traverse your path 😉
Here's some of what you might hear if you're running in a pair of minimalist sandals or running barefoot 😉
We've got lots of other resources on our site to help you learn more about making, wearing, and enjoying your minimalist sandals. Check the menu at the top of the page. And enjoy our blog.
They're a new spin on mankind's oldest footwear, made with modern materials.
They allow your feet and legs can work the way nature intended.
Your feet can move as if you were barefoot, but with a layer of protection.
They're durable, stylish, affordable, but really light and low-profile so it feels like you're not wearing anything even though you can have strong layer of protection.
Without a raised heel, they allow your posture to align naturally.
Minimalist sandals are flexible, they're functional, they let your feet move and bend and flex, and they fit your feet. They don't constrict your feet.
They're not too stiff. They're not too high off the ground.
They're not about being decorative; they're about being functional — though there are some really fun ways to decorate your sandals, if you like.
Thanks to Chris McDougall's bestselling book, Born to Run, and research from Harvard's Daniel Lieberman, people all around the world are discovering the magic of minimalist sandals — also known as barefoot sandals — because what they really do is let your feet move as if they were barefoot, but with a layer of protection.
Many people have reported that from wearing minimalist sandals their running has improved. It's helped heal old injuries, helped strengthen their feet (because they can move their feet). Some people, like me, found that their flat feet develop arches in them for the first time (shoes can reshape your feet!).
One worry that people have when they have the idea of going barefoot is they might step on something unpleasant and that's where a minimalist sandal comes into play because, again, it gives you that total natural experience but with the perfect layer of protection.
So that's why you'd want to try a pair of minimalist sandals. And whether you want a ready-to-wear pair or a do-it-yourself pair, we have both of those at Xero Shoes, our award-winning sandals that are made specifically for natural fit, natural function, natural feel, to let you feel the freedom, feel the fun and feel the world.
Hundreds of thousands of people all around the world are using minimalist sandals almost every activity — running, walking, hiking, camping, biking, CrossFit, yoga, working out, stand up paddle boarding… and much more.
There are 3 different types of minimalist sandals.
Thong style sandals sandals with lacing that comes up between your 1st and 2nd toe.
Sport style sandals using webbing that comes across the top of your foot and includes a heel strap.
"Hybrid" sandals that use different design elements — e.g. toe loops — to secure the sandal to your foot.
Let's examine each.
Thong sandals
These are mankind's oldest footwear.
Archeological digs in Oregon revealed a 10,000 year old sandal made from sagebrush that looks remarkably like our Genesis sandal.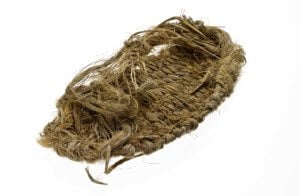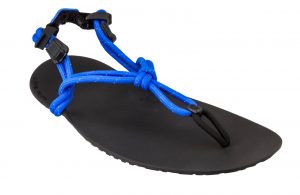 Thong style sandals are often confused with flip-flops because of the toe thong, or toe strap.
What makes them different — as you can see in that image of the Genesis — is that the lacing system surrounds your entire foot, including the ankle and heel. So you don't need to grip with your toes on the thong to hold the sole on your foot.
This reduces or eliminates the pressure spot between your toes.
But if you don't want something between your toes, you'll look for a sport sandal.
Sport Sandals
These sandals use webbing in a pattern that goes across your foot and includes a heel strap (sometimes adjustable, sometimes not) for a secure fit.
We have our Z-Trek sandal, which uses the same base as our 6mm Contact DIY sandal making kit sole, but with a sport-sandal-style webbing. It's really, really, flexible so your foot moves and bends and flexes naturally.
And then, there's our Z-Trail sandal, which is our trail-friendly sport sandal. What makes this so comfortable, have so much protection, and still be so flexible is our three layer FeelLite™ sole.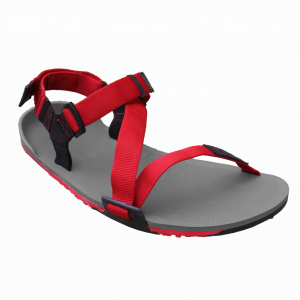 The first layer is our FeelTrue rubber which gives you abrasion resistance. The TrailFoam middle layer evens out the bumps. The BareFoam on top gives just that little bit of cushioning underneath your foot that makes you go "Aaaah."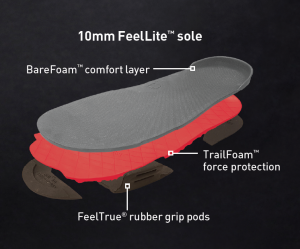 What makes this comfortable, again, is that your foot can bend and flex and move naturally… unlike other sport sandals which are big, thick, stiff, heavy, and brick-like.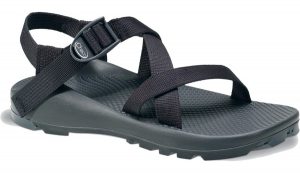 Hybrid Sandals
These sandals us design elements from both previous styles.
For example, our Jessie sandal has a toe loop to hold your forefoot in place, and a separate heel strap with adjustable instep strap.
This is on top of a minimalist sole — just 5mm of FeelTrue® rubber.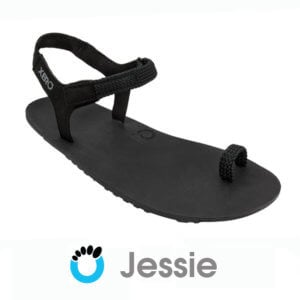 Or our Veracruz sandal, which was literally dreamed up by our Chief Product Officer, Dennis Driscoll. He was dreaming about this unique lacing system and forced himself to get up to sketch it.
You'll see that it has a toe loop, like the Jessie (BTW, the Jessie was invented by Dennis's wife, Jessie, who made a similar sandal with our original DIY kits in the US!). But then the forefoot strap comes around your foot and becomes the adjustable heel strap, and then there is a separate, adjustable instep strap.
Why get any of these?
In short, comfort and performance come from letting your feet do what's natural — bend, flex, move, and safely feel the world.
All of these shoes give you that natural experience so you can Live Life Feet First!
Well, clearly the easiest place is right here on our website.
We ship all around the world. We have sold Xero Shoes to people in 97 countries including:
India
Australia
Singapore
Canada
UK
Japan
There are physical stores in the US and all around the world that carry Xero Shoes, as well, including REI, Whole Earth Provision Company, Jax, and many more.
If you go to XeroShoes.com/stores, you will see the current list of stores that carry Xero Shoes. We recommend calling the store in advance to see which products they have in stock
We're adding new stores every week, so check back on that list or subscribe to our newsletter so you hear about new stores.
Check back and see where you can try on a pair, or just get yours here and Live Life Feet First!